Coronation of King Charles III and Queen Camilla
Coronation Party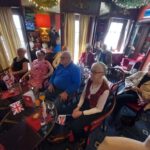 On May 6th 2023, Coronation Day, members and friends of Deutsch-Britische Gesellschaft Nürnberg e.V. gathered in the bar of Loew's Hotel Merkur to watch on TV the coronation of King Charles III and Queen Camilla together and celebrate this historic event. Hardly a word was spoken while people were following with interest and anticipation the solemn proceedings in Westminster Abbey. After the King had been crowned, everyone was handed a glass of sparkling wine for a toast to His Majesty the King.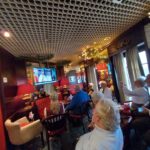 After that the party went on in a cheerful mood with people enjoying food, drink and lively conversation as they followed the events in London until they drew to a close, when the King and Queen withdrew from their final appearance on the balcony of Buckingham Palace. A special touch was added to the party, as the society's secretary, Jan Grensemann, who was fortunate to be in London on that day, shared a number of photos that conveyed a more vidid impression of the atmosphere there, especially as he made quite an effort and managed to get fairly close to the procession (see below). So in the afternoon, people left elated by the feeling of having been part of a global audience that witnessed this memorable event as well as by the joy of a day spent in good company.
Our special thanks go to Mr Peter Loew for inviting the DBGN to watch the coronation ceremony on TV in the bar of Loew's Hotel Merkur.
Impressions from London by our Secretary, Jan Grensemann
Sunday, 07.05.2023
Saturday, 06.05.2023
Friday, 05.05.2023